2022 LIVESTOCK SHOWS FOR THE UPCOMING SEASON ARE RIGHT AROUND THE CORNER!
The calendar is set for the 2022 Livestock Shows in Texas.  Here are the dates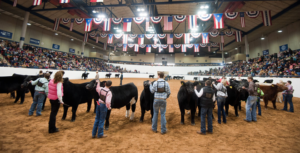 and locations happening throughout Texas. Go to the links for each Stock Show to learn more about event schedules, entry forms, ticket information and more:
Southwestern Exposition & Livestock Show (Fort Worth): January 14 – February 5, 2022
San Angelo Stock Show & Rodeo (San Angelo):  February 3- April 17, 2022
San Antonio Stock Show & Rodeo (San Antonio): February 10 – 26, 2022
Houston Livestock Show and Rodeo (Houston): February 28 – March 20, 2022
Star of Texas Fair & Rodeo (Austin): March 12 – 26, 2022
Above all, livestock shows are the perfect way to spend some time with the family! Save the date and make plans to come to one of these rodeos near you!
In conclusion, visit Steinhauser's for all your Livestock needs!